Effective B2B marketing is not easy. While marketing to consumers has its own challenges, capturing the attention of other businesses at trade shows and conferences can be a difficult road. Even the most coveted freebies and the most engaging representatives can get lost in marketing noise and derail a brand's opportunity to differentiate from competitors, build brand awareness and increase sales. Thankfully, there is a proven method of setting yourself apart and grabbing the attention of consumers: experiential marketing.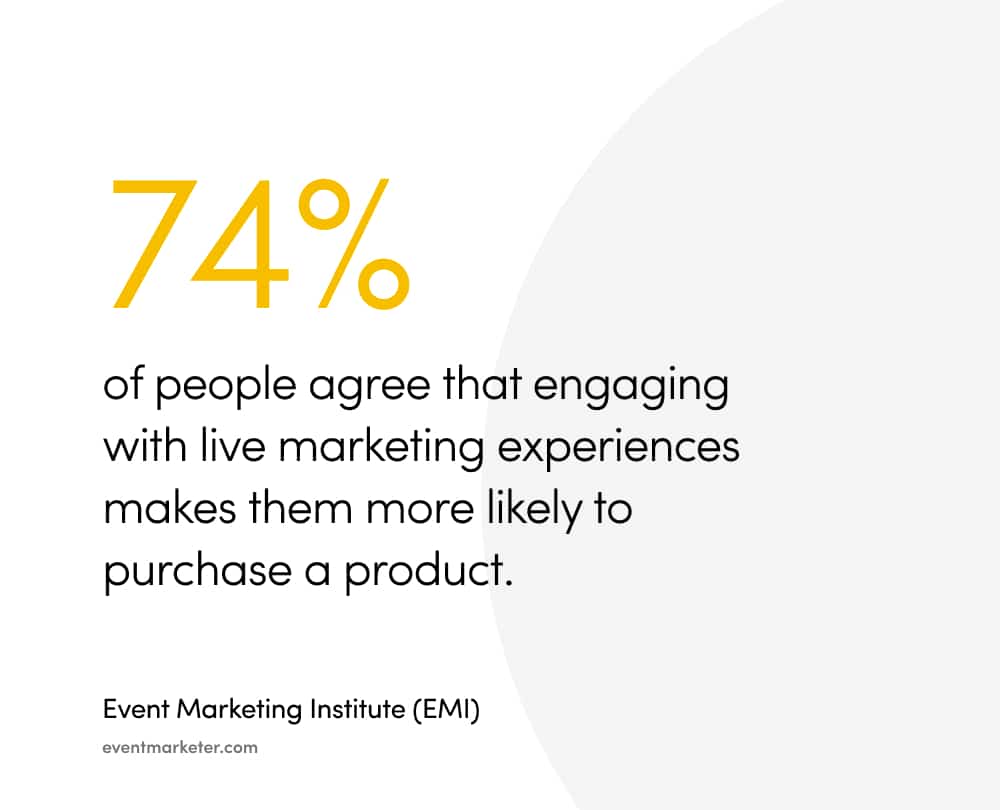 Experiential marketing is the practice of immersing your audience in an engaging live experience. Production agencies often design experiential marketing experiences for clients to help them make a lasting impression on their customers and stand out among the run-of-the-mill tradeshow exhibits and conferences. According to an Event Marketing Institute report, 74% of people agree that engaging with live marketing experiences makes them more likely to purchase a product. Some B2B experiential marketing experiences are hosted in-person at large-scale exhibitions or pop-up locations, and others are hosted via Facebook or LinkedIn Live, webinars, AMA events or interactive groups and chats. Regardless of where and how you decide to plan your experiential marketing event, the goal is to create an unforgettable experience that will immerse participants in your brand.
Why Experiential Marketing Can Boost Your B2B Success
While it is true that experiential marketing has always been more popular in B2C marketing, it is gaining popularity among B2B brands because of its emotional impact and potential for success. Although B2B involves multiple people weighing in on purchases, the goals and results of experiential marketing still apply: to build brand awareness and connection with consumers, and to encourage consumers to buy a product or service. And truthfully, the businesses you're trying to engage in B2B marketing are similar to your consumer base. They want to attend events and interact with brands that are exciting, inventive, and memorable, all while learning more about your products and services.
A recent Freeman report noted that 76% of B2B marketers agree that experiential marketing campaigns help them increase brand awareness. This type of live marketing also offers brands an opportunity to strengthen relationships and loyalty with existing customers as well as introduce new products in fun and exciting ways. By immersing target audiences in unforgettable experiences, brands can strengthen every step of the marketing process while also increasing sales. 
How To Plan an Experiential Marketing Event
Just like any marketing tool, experiential marketing can make a powerful impact when it is thoughtfully planned and executed. There are important tasks to be completed before, during and after an event to ensure your work is worthwhile and effective. While some brands are equipped to design experiential events in-house, many prefer to partner with a professional production agency to ensure their event is created and executed at the highest possible level. If you are interested in elevating your brand's B2B marketing with experiential strategies and create a successful live marketing experience for your customers, production agency (spark) has compiled a comprehensive checklist to ensure your brand's success in each step of the experiential marketing process.
Preparing for the experiential event is just as important as the event itself. Every successful marketing campaign begins with applying insights from market research to make sure the campaign reaches the most consumers in the most effective way, and designing an experiential marketing experience is no different. Remember to:
Research and survey your target audience to better understand their needs and desires.

Determine where your audience is most likely to be—trade shows, conferences, or branded events, for example—so you can host your experience in that space.

Consider how your audience likes to consume content and what factors they consider when making purchases, and then tailor the experience around their interests, needs, motivations and behaviors.

Anticipate problems your target audience might be having and build the experience around offering solutions.

Focus on developing a unique, customized experience your customers have never seen before and will be excited to share on social media.

Plan activities that are small, manageable, and easy to measure their efficacy so that you can save time and money.

Consider how much space will be available, how long your event will last and the budget for your event.
The atmosphere of your event is critical to its success, and participants should feel excited and engaged while attending. To ensure the experience flows smoothly and is executed to a high standard, you should:
Keep the event and the experience well-staffed to stay attentive to participant needs.

Present your brand's story to connect emotionally with participants.

Offer product demonstrations, facility tours or digital tools that add an element of gamification to draw participants into the event.

Focus on creating value by using a try-before-you-buy approach. Allowing the event and your products to speak for themselves without pushing sales is key.

Create networking opportunities for attendees. This creates an added layer of unexpected value for your B2B audience.

Keep presentations brief and design interactive booths so that participants stay engaged and excited.

Give away fun freebies so your audience can take a piece of your brand home and remember you.

Offer unexpected perks of high value for participants that they can't get from the competition, like free coaching or onsite training.

Establish brand exclusivity by creating a VIP experience. Customers will admire special perks like invitation-only parties or receptions.

Gather participant data by listening to chatter and taking notes or leading Q&As, gain new leads by collecting email addresses in exchange for free rewards, and track and respond to social mentions in real time.
Once your experiential event ends, be sure to keep the momentum going by following up with participants and reviewing any event data. Determining exactly what worked and what needs to be adjusted will help you maximize the potential of each subsequent experiential marketing event. Regardless of whether your event was in-person or virtual, don't forget to:
Offer participants promotional deals like early access to new products or services.

Invite participants to future events like product launches to communicate how valuable they are to your brand as long-term customers.

Leverage any social mentions or influencer posts about your event to amplify the event even further online.

Gather additional data by offering a post-event digital survey or poll.

Analyze all event data, including RSVPs, in-person or website heat maps, traffic patterns, customer responses and participation, video watch rates and link clicks so you can adjust as necessary when planning your next experiential event.
Experiential marketing for B2B with (spark)