Content marketing enables brands to learn about their customers, identify what they need, and respond by offering highly relevant products that make an impact. But it is also quite the chameleon, always adapting and shifting to offer audiences new, innovative ways to engage with brands. While the core of content marketing never changes—offer consumers the information they need and want in a way that interests them—the methods of content marketing certainly do.
Today's consumers learn about brands through podcasts, videos, social posts, articles, apps, immersive experiences, and virtual technology. Successful brands know how and when to leverage each of these channels to attract, connect with, and retain their audience. Knowing what types of content consumers are most likely to respond to is crucial, and one incredibly effective method of connecting with consumers is augmented reality.
How AR differs from VR.
Augmented reality, or AR, is a type of digital marketing that creates blended realities for users, allowing them to interact with people, products, and their environment from the comfort of their smartphones. While many people are familiar with the idea of Virtual Reality, or VR, where gamers put on headsets and become completely immersed in a fictional environment, augmented reality differs in a few distinct ways:
AR does not create a separate environment; it simply adds or overlays digital content onto our physical reality.
AR doesn't require a special VR headset; anyone can access AR content using a smartphone or tablet.
Consumers are more comfortable using AR as it doesn't block them off from real-world sights and sounds
70% of technology leaders anticipate that the AR market will soon surpass the VR market in revenue.
Augmented reality is on track for huge market growth.
Not only can augmented reality offer elevated user experiences and streamlined retail moments in ways that VR cannot, but the global AR market is also predicted to grow dramatically in coming years. Statista estimates that from 2017 to 2025, the augmented reality market will increase from $3.5 billion to more than $198 billion. This means that more than 100 million consumers are already shopping via AR experiences, and that number will only continue to rise. By 2025, nearly 75% of global smartphone users will be frequent AR consumers.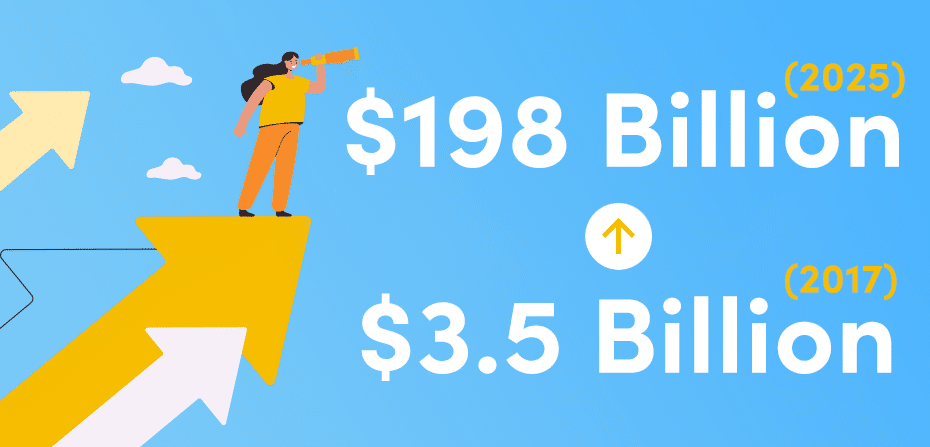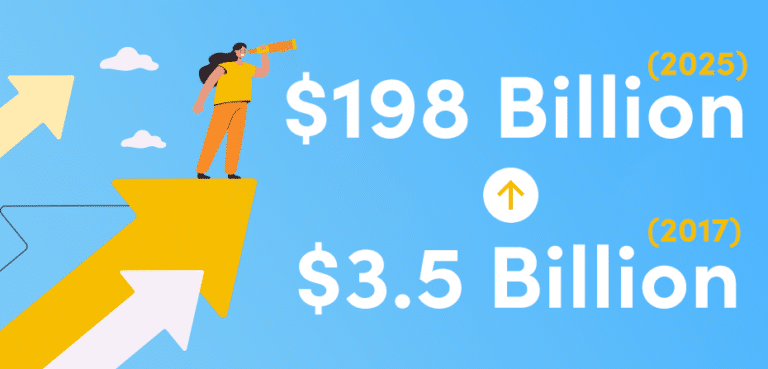 These statistics are mirrored in the daily online lives of today's consumers. With the explosion of social platform filters on Instagram Reels and TikTok, consumers have already demonstrated their desire to experiment with augmented reality. In addition, major retailers like IKEA, Wayfair, Sephora, and Amazon are already demonstrating exactly how AR integration can enhance their retail experiences. AR technology has helped businesses across multiple industries, including education, healthcare, tourism, and art. Clearly augmented reality is not a passing trend, but unfortunately, many brands still are not harnessing its power to drive brand awareness and conversions.
The undeniable benefits of augmented reality.
Integrating AR as one component of your brand's content marketing strategy offers many benefits, including enhanced UX, increased brand retention and loyalty, and more personalization for consumers. In the highly competitive landscape of ecommerce, augmented reality offers brands and consumers a deeper connection, which leads to increased satisfaction all around. If you are looking to educate yourself about the increasing sophistication of AR technology and how you can leverage it to enhance their content and advertising materials, you're in the right place. Here are a few specific benefits of incorporating AR into your content marketing strategy:
Enhanced shopping experience and consumer engagement.

Augmented reality is an opportunity to add value, originality, engaging content, and an overall more enjoyable retail experience to consumers. In fact, AR product experiences are 200% more engaging than their non-AR counterparts. From product demonstrations to new product line sneak peeks, AR captures consumers' attention in a much more authentic way and helps them feel more comfortable making purchase decisions.

Increased emotional connection and brand trust.

Great marketing is all about creating connections. Harnessing innovative technology is a wonderful way to generate positive emotions in consumers. When traditional ads fall flat, AR can envelop audiences in exciting new experiences that make them feel more connected to your brand. Augmented reality also gives consumers the chance to interact with products and experience their quality before buying.

Increased brand awareness and retention rates.

In this age of social channels and user-generated content, audiences are more likely to click on, share, and promote brands that offer memorable, fun, novel experiences. Giving consumers AR interactions can make your brand more visible, sharable, and keep loyal customers coming back to see what products they can experience through AR next.
More opportunities for customization.
Adding AR to your content marketing strategy can make your brand stand out in the competitive retail space. Consumers want more than 1-dimensional content and static ads; they want an AR experience when considering purchases, yet few retailers are offering it. With 61% of consumers preferring retailers who offer AR experiences, yet just 1% of retailers are currently using AR or VR, this discrepancy creates a huge opportunity for marketers to get ahead of the curve and gain a competitive advantage with AR. 
Educate consumers about new products. Learning about new products is far more convenient and compelling when you can interact with them. Rather than scrolling through pages of product photos, giving consumers the chance to experience products firsthand—especially new or complex products—is the perfect way to educate your audience and guide them through the learning curve. Augmented reality that takes the form of tutorials and demonstrations can help move audiences from consideration to conversion.

Iterate ad and email campaigns in fresh ways. Sometimes even the most thoughtful campaigns miss the mark but injecting them with an AR component might just be the way to build excitement around your brand and move customers toward purchase. In fact, Shopify recently claimed a 94% increased conversion rate for products that featured AR or 3D content.
How your business can use AR to enhance their content marketing.
Before diving headfirst into AR, determine exactly which problems you need to solve and which objectives you are trying to reach by adding augmented reality to your content marketing. Do you need a more effective way of educating potential customers? Are you able to gain consumer attention and trust but can't seem to get anyone across the finish line? Understanding why and how your brand can use AR to achieve its goals is the first step to making it work for you.
Once you're clear on your objectives, you have many options for incorporating AR into your content marketing efforts and moving customers toward conversion:
Create interactive print ads, product packaging, QR codes, or even business cards through location-based AR to provide additional product information or access to entertainment.
Offer customers virtual "try-ons" of any product, from clothing and lipstick to home furniture and décor, by using markerless AR.
Provide product demonstrations and walk-throughs of key features using superimposition-based augmented reality.
Create interactive games or virtual scavenger hunts using location-based AR to take the monotony out of online shopping and instead connect consumers with your products in a fun, gamified way.
Host experiential marketing events that incorporate projection-based AR experiences to project products into real-world scenarios and create stronger memories and connections with consumers.
Augmented reality also opens the door for brands to product test and gather consumer feedback while products are still in production. Before investing large budgets into products that won't connect with consumers or meet their needs, AR lets consumers "try" your future products and offer opinions that can set your product launch up for greater success.
Content marketing is a complex, ever-changing tenant of a successful brand, and it takes time and effort to incorporate recent technology in a relevant, meaningful way. Marketers should consider their audience, brand, and specific KPIs when deciding how to incorporate AR into their content and advertising efforts to ensure they put the right message on the right channel at the right time. Your brand might consider partnering with an experienced digital agency to achieve optimal content marketing results.
Are you interested in learning more about engaging and captivating your audience with immersive experiences and innovative storytelling? (spark) knows exactly how to make your brand sizzle. With our subscription-based model, you can choose from a range of capabilities that fit your content marketing needs. So don't wait any longer to revitalize your content marketing strategy! Reach out to the (spark) team today to see how we can make your content matter more.