Chances are that your brand is already utilizing Facebook ads to target consumers within specific demographics, geographic locations, life stages or interests, but now your brand can also take advantage of Meta's newest marketing capability to help improve your advertising performance: augmented reality ads.
Augmented reality ads are not a social media trend or marketing gimmick, but a gateway into the future of marketing, and preparing now will set your company up for success in years to come.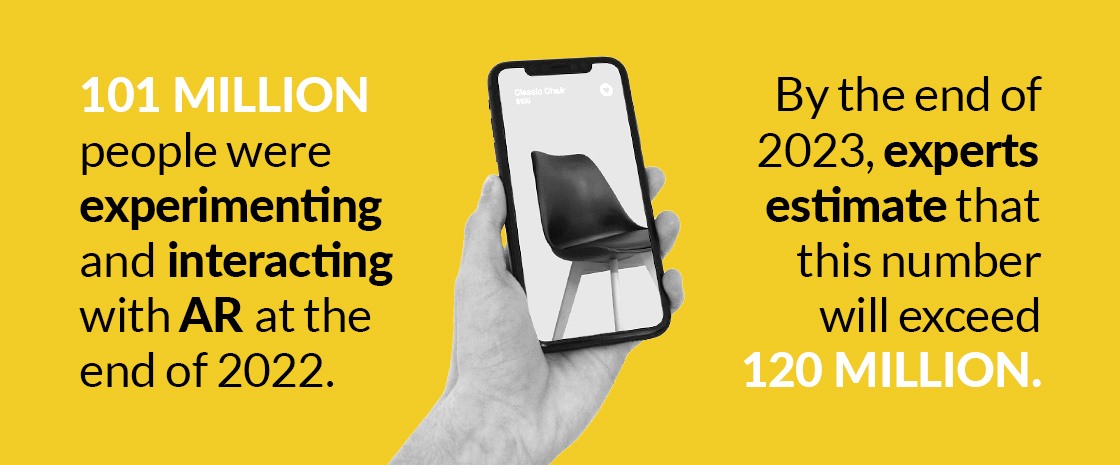 At the close of 2022, 101 million people were already experimenting and interacting with AR (Augmented Reality) applications, and Boston Consulting Group estimates that by the end of 2023, that number will exceed 120 million. This shows us definitively that mainstream consumers are already familiar with AR, and recent surveys note that 40% of consumers state that they would pay higher prices for products that can first be experienced through augmented reality.
AR 101: What You Need to Know
While understanding the full scope of Meta AR may feel daunting, a professional advertising agency like (spark) can help explain the process. To begin, augmented reality is, at its most basic level, intended to be another tool in your brand's social marketing toolbox. AR can be used in any industry and can seamlessly dovetail into your existing content creation strategy. It is designed to provide creative opportunities across ad objectives by enabling advertisers to implement AR components within each step of the conversion funnel.
AR can combine visual, auditory, and haptic elements to make the user experience with brands and products even more engaging. Augmented reality effects on mobile ads across Facebook and Instagram can bridge the gap between physical and ecommerce stores. Consumers can use AR ads to virtually discover and try out new products within Facebook or Instagram Feeds and Instagram Stories, and advertisers who are well-versed in this recent technology can create ads that engage users in real time, charm audiences with immersive experiences and improve campaign performance for brands.
The few minor limitations of Meta AR ads are that they only layer onto video ads, not image ads. Yes, video ads can be more expensive and time-consuming to plan and create, but they are also invaluable ways to grab consumers' attention through visual movement and highlight a brand's products and services through tutorials and demonstrations. Video carousel ads are also a wonderful way to highlight a series (or new line) of products and provide each item with a dedicated landing page, and adding an AR element will draw a target audience in even further. In fact, a recent Meta survey found that since the Covid-19 pandemic, 2 out of 3 shoppers now prefer to experience products from the comfort of their own home. This strong preference for online shopping has led advertising agencies and Meta to encourage brands to begin working with AR effects now so that they will be better prepared when creating video content in the future.
How To Create AR Ads on Facebook or Instagram
To help brands get started with AR ads, Meta is currently offering pre-made augmented reality effect templates and self-serve tools through Spark AR Studio. Your marketing team can also choose to design their own unique, branded effects—just be aware that Meta may take up to five days to review and approve an effect, so keep this in mind when creating campaign timelines. So, once you've chosen—or created—an AR effect, you're ready to dive into the process of adding AR effects to your branded video ads. And if augmented reality content creation still seems overwhelming, (spark), an advertising agency with ample experience navigating the Meta platform, is here to explain exactly how to create an augmented reality ad for your brand that will impress your target audiences.
Go to Ads Manager on Meta Business Manager.
Tap the green + "Create" button.
Choose between the following campaign objectives that support an AR experience:


Brand awareness
Traffic
Conversions (Facebook only)
Reach

Enter all required information and settings for the campaign and ad set, including any campaign details, A/B testing and campaign budget information.
On ad level, select "Add an Instant Experience."
Tap the "Choose a Template" selector and select "AR Experience" template. A new pop-up window will appear.
Tap "Effect" to choose your ad effect. Only effects that have been approved are shown in the dropdown.
Tap the "Camera Facing" dropdown to choose which camera—front or back—your AR effect will use.
In the Destination section, tap the dropdown and choose your call-to-action label, then enter a website URL, which must start with "https."
To preview your AR effect on your mobile phone, tap "Preview on Mobile." A notification will appear in your Facebook app.
Tap "Done."
In the Ad Creative section, tap "Add Video." Select the video you want to use for your ad and tap "Next." Apply adjustments to your ad creative if applicable, then tap "Done." You must use video creative for AR ads.
Enter the Primary Text and Headline for your video ad.
Leave Display Link blank to show the Open Camera label on the ad.
Below Text Overlay, choose the "Call to Action" you want people to take after viewing video.
To preview your entire AR ad, tap the 3 dots in the top-right corner and choose "Send Notification to Facebook." We'll send you a notification in the Facebook app on your mobile device.
Tap "Publish."
Once your ad is published and running, you'll be able to use Ads Reporting and Ads Manager to gather metrics and analyze data from your AR ads.
Our team of experts is here to guide and support your company as you navigate the newest social marketing tool of augmented reality ads. If you are interested in adding AR ads to your existing marketing strategy but are not sure how to start, reach out to (spark) and let us show you just how incredible your next Meta video ad could be.