FOUNDED IN 1939 BY FATHER WILLIAM HOWARD BISHOP, GLENMARY HOME MISSIONERS IS A CATHOLIC SOCIETY OF PRIESTS, BROTHERS AND LAYPEOPLE DEDICATED TO SERVING THE SPIRITUAL AND MATERIAL NEEDS OF PEOPLE LIVING IN MISSION COUNTIES THROUGHOUT APPALACHIA, THE RURAL SOUTH AND THE SOUTHWEST. THEY HAVE STRONG, HISTORICAL ROOTS IN THE COMMUNITIES THEY SERVE. GLENMARY CURRENTLY STAFFS 10 MISSIONS AND NUMEROUS MINISTRIES THROUGHOUT THESE AREAS, ALONG WITH PROVIDING ASSISTANCE TO THE UNDER-SERVED IN THESE COMMUNITIES.
Glenmary is a large organization with a rich history and a solid foundation story. They needed a website that immediately captivated their audience and asked them to engage with Glenmary through missions or donations. They were seeking a new digital home that honored their history while using modern design to showcase the passion for their work.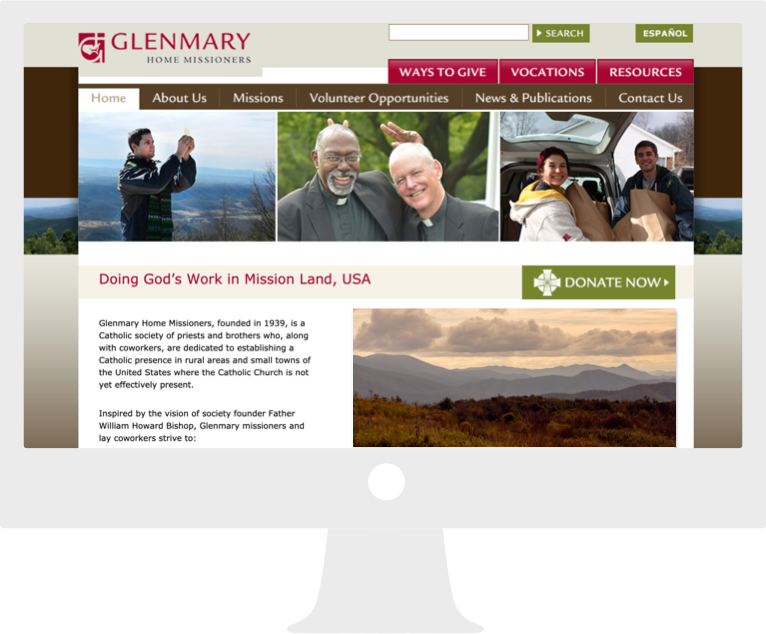 Glenmary brothers are known for being highly resourceful, talented and skilled. The Glenmary team needed a website that was just as unique as their mission. This included an easier way for donors to give, a homepage with easy navigation for the two primary audiences, and a user-friendly way for Glenmary's employees to update the site on a consistent basis.
The donation functionality was a major problem. Despite putting substantial effort into fundraising and outreach, the donation page was difficult to navigate and exhausting for end users.
Lastly, Glenmary wanted to retain control of the site content, but needed a setup that empowered them to create and publish content frequently and easily, with speed and minimal technical support.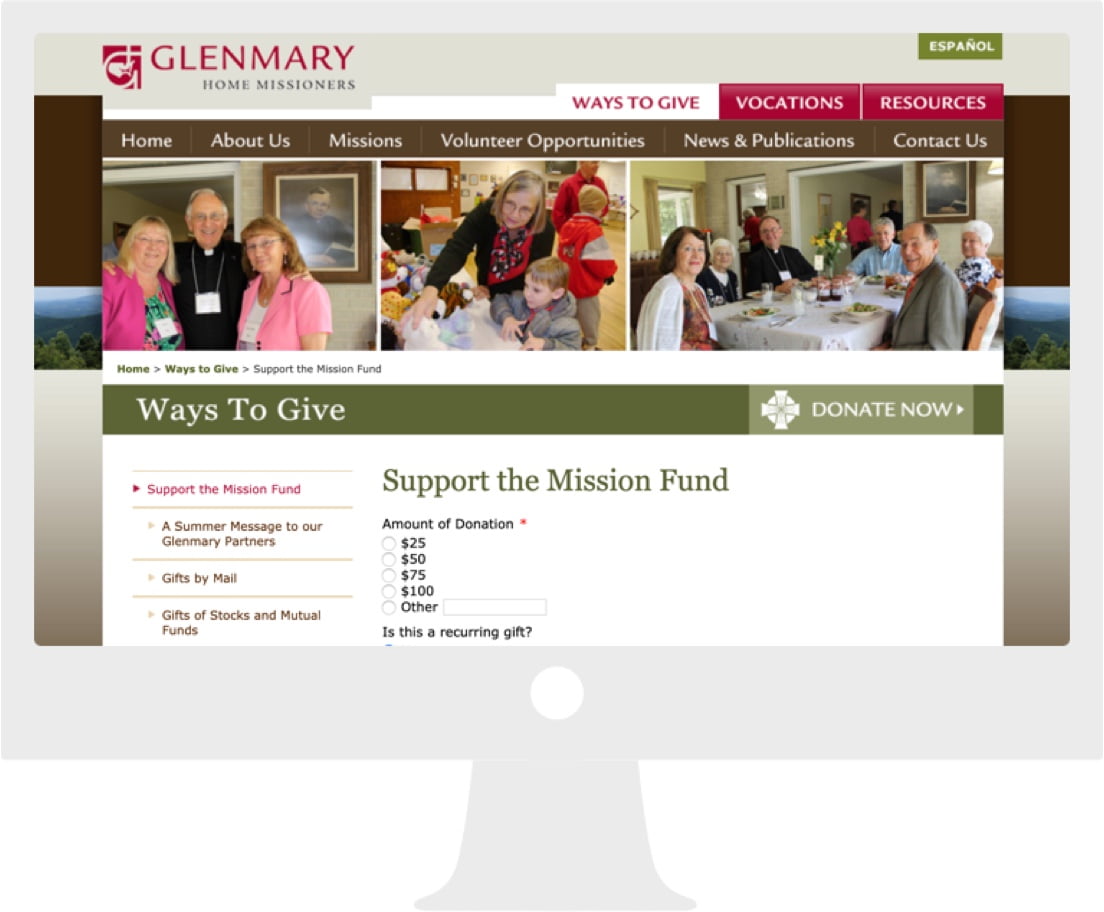 (spark) analyzed the design, development and UX for Glenmary's old site, and realized they needed assistance condensing and prioritizing content, improving the donation funnel, integrating social media, and streamlining the UX to drive more user interaction.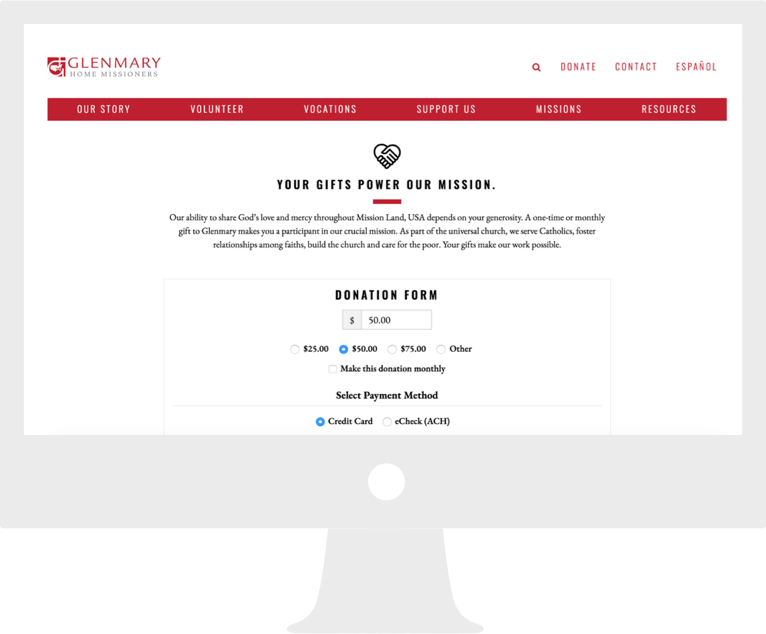 (spark) implemented a donation plugin that would allow for customization. We wanted to empower Glenmary's team with more options for personalizing their donation forms, gathering data for marketing attribution and having more control over how they manage donations.
The creative team went to work on finding a look that spoke to a 2019 audience but paid homage to many of the Glenmarians of years past and the mission work they'd done all over the country. We utilized historical photos, mixed with current photos of volunteering and outreach, to show the past and the present of the organization. Some sleek design, parallax scrolling and other creative animations helped give the site a smooth look and feel.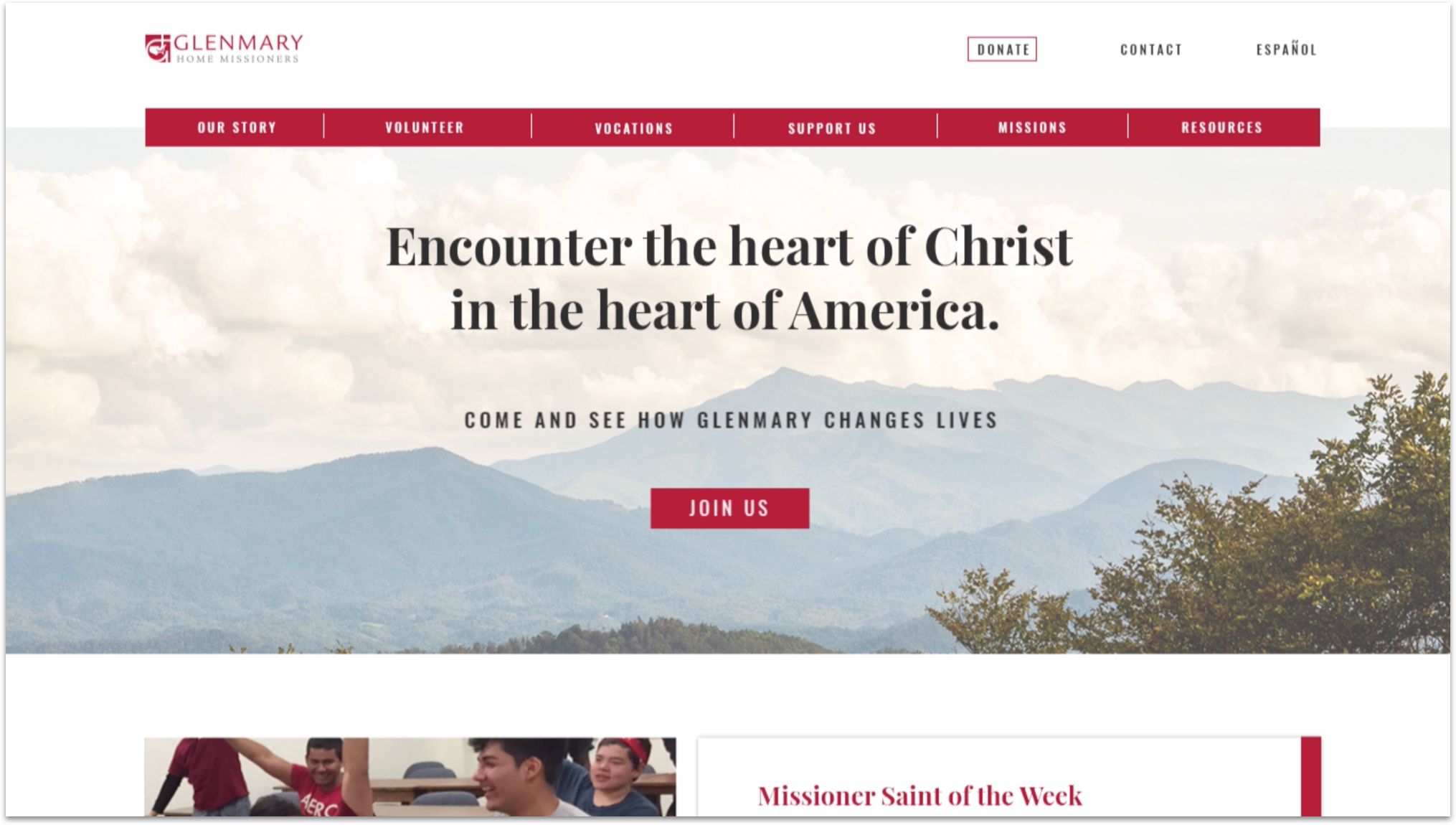 (spark)'s Development Team planned a strategy for Glenmary's site to make it easier to implement updates with custom fields and auto-population.
(spark) has given Glenmary Home Missioners' marketing team the tools to communicate and promote their organization easily and effectively on the site, with minimal development knowledge needed.
After the site rebuild, Glenmary has complete autonomy over the donation functionality and personalizing content for different needs. They also receive instant notifications when donations are received, allowing for immediate responses to donating parties.






(spark)'s Development Team created a scalable structure, so as the Glenmary team adds more content, more sections or pages or new mission locations to their map, the website automatically populates this content or location data.
Glenmary Home Missioners needed a custom website from a company that could adapt to their needs and provide a bespoke service. (spark) is helping drive their recruitment and donation through a new and improved site that better represents Glenmary Home Missioner's history and gives them digital tools as they look toward the future.