SOMETIMES, A CLIENT COMES TO US WITH A REAL PIE-IN-THE SKY IDEA. OTHER TIMES, THEY JUST COME TO US WITH PIE.
OUR MOST TASTY CLIENT TO DATE, SPARK PARTNERED WITH KERN'S KITCHEN, CREATOR OF THE ONE AND ONLY WORLD-FAMOUS DERBY-PIE ® CHOCOLATE NUT PIE. HANDCRAFTED FOR OVER 60 YEARS, KERN'S DERBY-PIE ® CHOCOLATE NUT PIE IS A TRUE – AND TRULY DELICIOUS – KENTUCKY TRADITION.
Kern's Kitchen has long been a household name, thanks to the tradition of serving Derby Pie® on Kentucky's Derby day. A staple in grocery stores, specialty shops and restaurant's in the region, Kern's was ready to to take their pies to the next level: the world. Kern's needed a to sell pies through their website for their next phase of their business model.
Kern's Kitchen also needed to update both their website and photography, while maintaining theire down-home, Kentucky roots.
Kern's knows pies, but Spark knows ecommerce. Being platform-agnostic means we are able to suggest the best content management system possible for each, individual client.
In this case, Kern's needed to have just the right ingredients: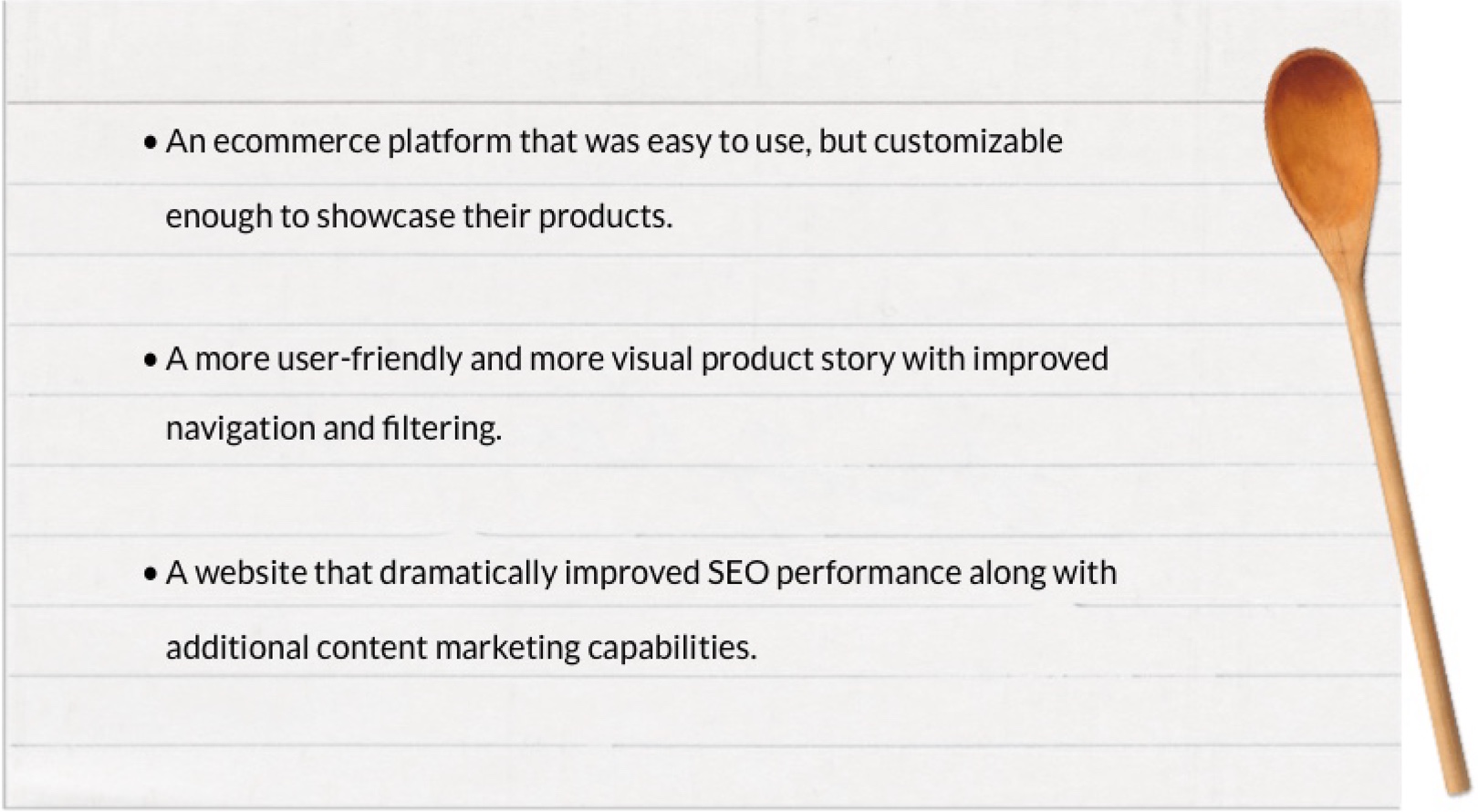 We had our eyes on the pies. By building the site on Shopify, (spark) was able to satisfy all requirements and provide a frictionless ordering experience for the consumer. We also made sure to add in a killer analytics campaign, in order to test what was working and what was not getting served.
As for visuals, (spark) combined the authentic, country essence of a wooden spoon from Kern's kitchen, used it to stir the ingredients, and up-todate touch of web design with responsiveness. Pie crust-inspired scalloped elements are used throughout the site to give a doily country flare without being too ornate.
Our vision for the checkout process was easy as pie: stylize the products in an attractive way with multiple photos and props, list the price with some company background information, and have the option to view related products. Also, the cart is actually a pie tin that fills up with pie as you buy!
The proof is in the pie. Kern's launched with enough time before this year's Kentucky Derby to see an immediate impact on sales, with newly engaged users. Along with fresh e-commerce capabilities, their bounce rate has decreased 17%, average session duration has increased by 47%, or 30 seconds, and the number of pages per session is up 25%.
Kern's Kitchen now recieves an average of a 2.08% conversion rate, and drove $3.4k in sales before the Kentucky Derby.
Crust us. Those are pretty great stats.